Welcome to the new version of Miami-Dade County's website. We'd love your feedback. While we're at work, you may be directed to miamidade.gov, which is still your primary source for information.
MDT10Ahead 2018 Annual Update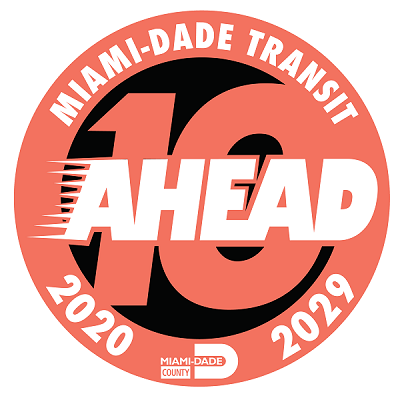 The New MDT10Ahead 2018 Annual Update Survey is Now Available
MDT10Ahead, the Fiscal Year 2019-2028 Transit Development Plan (TDP), is a ten-year strategic vision for Miami–Dade Department of Transportation and Public Works to promote the operation of an efficient, reliable, and financially sustainable transit system.
How to get involved: The TDP process provides an opportunity for Miami-Dade County citizens to identify mobility needs and transportation issues. Your input is needed to facilitate public consensus and provide direction for TDP development.
Take the online survey now:
Share your ideas, suggestions, and comments on Facebook and Twitter use #MDT10Ahead.
Submit your comments by email at MDT10Ahead@miamidade.gov.
Mail your comments to:
MIAMI-DADE DEPARTMENT OF TRANSPORTATION AND PUBLIC WORKS, PLANNING & DEVELOPMENT
701 NW 1ST COURT 15th FLOOR
MIAMI FL 33136
Correspondence must be postmarked no later than July 31, 2018 in order to be considered for this TDP annual update.
Accommodations for persons with disabilities

Miami-Dade County provides equal access and equal opportunity in employment and does not discriminate on the basis of disability in its programs or services. Auxiliary aids and services for communication are available with five days' advance notice. For material in alternate format (audiotape, Braille or computer disk) or other accommodations, call 786-469-5225 or email Marcos.Ortega@miamidade.gov.

You can also send a letter to:

Miami-Dade Department of Transportation and Public Works
701 NW 1ST Court Suite 1700
Miami, FL 33136
ATTN: Marcos Ortega

Past Transit Development Plans

These are the Transit Development Plans submitted by Miami-Dade Transit starting in 2009.
If you cannot view PDF

files, you can download
Acrobat Reader
for free from Adobe Systems, Inc. In order to use PDF files, you must have Acrobat installed on your computer.